Wireless Hill is an extremely valuable Banksia Woodland reserve with high biodiversity including large numbers of orchids. The Friends of Wireless Hill work in partnership with the City of Melville to preserve this precious asset. The Friends are extremely pleased to have received two grants to continue our work at Wireless Hill. We have received a SALP (Swan River Trust and Alcoa Landcare Program) grant, and we were also successful in obtaining a State NRM Community Action grant.
The Friends are very grateful for this funding which will enable us to continue to employ experienced bush care workers to manually control weeds in the park. Wireless Hill was cleared in 1912 for a telegraph station and South African perennial veldt grass was planted to stabilise the soil. The bush regenerated but weeds remain, contributing to the fuel load and competing with native grasses and other plants. Other major weeds in the park include Gladioli and Freesia, bulbous weeds well adapted to our dry environment. We have been fortunate to have Alcoa staff from the local office volunteer in Gladi pulls over several seasons. The photo shows their yield after the last Gladi pull.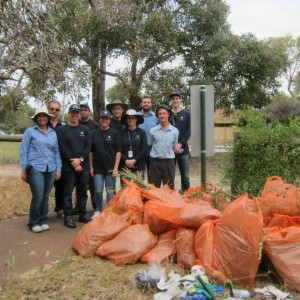 We have found that removing weeds by hand, rather than chemically, facilitates a much quicker and more diverse recovery of native vegetation. We are currently applying for Landcare funding for training to allow safe work along roadsides in the park.